CAS Christmas Lecture: Alex May
Wed, 05 Dec 2012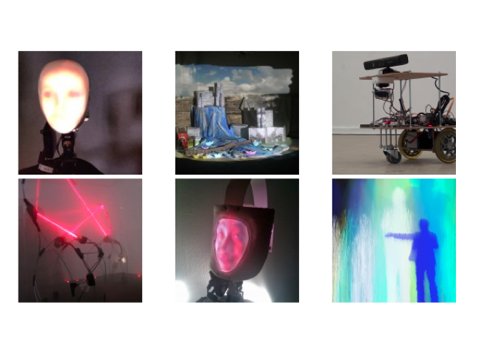 Wednesday, 12 December 2012
18:00
The October Gallery, 24 Old Gloucester Street, Bloomsbury, London WC1N 3AL, UK
Map: http://www.octobergallery.co.uk/contact/index.shtml
Alex May began programming voraciously from the age of eight when he was given a Sinclair ZX81 as a gift from his parents. His passion for coding has continued for over 30 years and his expertise is a core element of his art practice. He understands his medium inside out in a way that is extremely rare for digital artists.
His installations and performances utilise video projection, low-level programming, computer vision, interactive digital installations, live video mixing, and robotics. Alex has developed series of site specific video installations in Holland Park and along Chelsea Embankment (London), and the Grande Halle de la Villette (Paris), and had work exhibited in the V&A, Science Museum, and Europe House (London), Science Gallery (Dublin), and featured in the British Science Festival, Lovebytes, Kinetica Art Fair, and White Night (Amiens and Brighton). His work has been a core element of the "Intuition and Ingenuity" exhibition, the touring exhibition (supported by CAS and The Arts Council England), which was curated to celebrate the centenary of the birth of Alan Turing.
He is a Visiting Research Fellow: Artist in Residence at Hertfordshire University with the Adaptive Systems Research Group who focus on social robotics, a part-time Digital Media Arts MA lecturer at Brighton University, and the Head of Projective Geometry at The Institute of Unnecessary Research.
Alex has created many popular tools for artists and VJ's including real-time video effects and music analysis software, and most recently released "Painting With Light" a free application that aims to provide a real-time, hands-on approach to video mapping from a fine art perspective, democratising this usually expensive and technically complex technology (only usually available to advertising companies with huge budgets) into the hands of artists who he hopes will find new ways of working with it.
This CAS Christmas lecture is our concluding event for the Alan Turing Centenary Year and we invite you to join us for the lecture, and drinks and nibbles to celebrate this exceptional year of activities and raise (another) glass or two to Alan Turing.