Computer Arts Society Autumn Lecture
Sun, 13 Oct 2013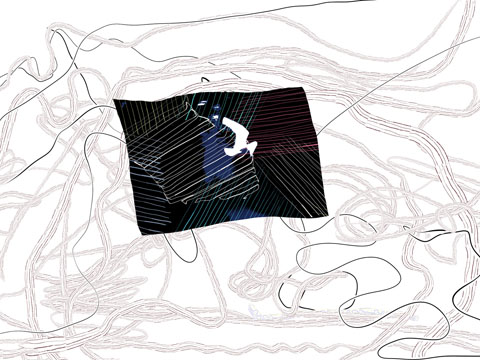 6pm Thursday 24th October at British Computer Society, First Floor The Davidson Building, 5 Southampton Street London, WC2E 7HA
The CAS is pleased to welcome James Faure Walker to open its 44th year of lectures in the digital arts. The lecture will be followed by the launch of Electronic Visualisation in Arts and Culture, the best papers from the EVA London conference since 2008, published as part of the Springer Series on Cultural Computing
Going With The Flow
In the eighties, James Faure Walker was knocked sideways by the paint systems on the Apple II and the Amiga – Dazzle Draw, Deluxe Paint. Already established as a painter and critic, he had to begin again, liberated, improvising between screen and canvas. Paint software simulates paint, and paint simulates the screen. Painters mostly avoided these tools, having a low opinion of computer art. In turn, the digital art community set itself apart, dreaming of a time when virtual art would take over – some time after 2000. That didn't happen. 'Painting the Digital River' was his response, arguing that painters could use the new palette and still be painters. He questioned the technological stereotypes – weird, bionic, nocturnal. There was no need to re-invent the roots or change the flavours.
This illustrated talk brings the story up to date, with themes from pigeons to football, from watercolour to the Cintiq. He will also mention early how-to-draw books, and how they anticipate the draw program.
Biography
James Faure Walker (born London 1948, St Martins 1966-70, RCA 1970-72) has been incorporating computer graphics in his painting since 1988.
Exhibitions include the Hayward Annual (1979), the John Moores (1982, 2002), the Whitworth (1985), eight times at Siggraph (1995 to 2007), and at DAM Berlin. In 1998 he won the 'Golden Plotter' at Computerkunst, Gladbeck, Germany. He has eleven works in the collection of the Victoria and Albert Museum, and his work was featured in 'Digital Pioneers' in 2009. He was one of five English artists commissioned to produce a print for the 2010 South African World Cup. He co-founded Artscribe magazine in 1976, and edited it for eight years. His 2006 book, 'Painting the Digital River: How an Artist Learned to Love the Computer', Prentice Hall (USA) won a New England Book Award. In 2013 he won the Royal Watercolour Society Award. He is Reader in Painting and the Computer at CCW Graduate School, Chelsea, University of the Arts.