The SoundPod
SATURDAY 13TH, MONDAY 15TH, TUESDAY 16TH AND WEDNESDAY 17TH JULY 2019
ROYAL COLLEGE OF ART, KENSINGTON CAMPUS, LONDON
The SoundPod has been custom-made for EventTwo. It contains a collection of contemporary and historic sound artworks that can be selected and listened to using professional-quality headphones. The 15 works being presented have been curated by Jon Weinel. The SoundPod itself was designed and built by Sean Clark.
We hope to make the contemporary tracks available online following the Event Two exhibition.
1. Jon Weinel
Jon Weinel is a London based artist, writer, and researcher whose main expertise is in electronic music and audio-visual media. In 2012 Jon completed his AHRC-funded PhD in Music at Keele University regarding the use of altered states of consciousness as a basis for composing electroacoustic music. His electronic music and visual music compositions have been performed internationally at festivals such as the ICMC, Fort Process, and Seeing Sound, while his writings have been featured in Leonardo Music Journal, Contemporary Music Review, OUPblog, and others. In 2018 his book Inner Sound: Altered States of Consciousness in Electronic Music and Audio-Visual Media (Oxford University Press) was launched at VJ London, and featured in THE WIRE magazine. Jon has held various academic posts in the UK and Denmark and currently lectures at Coventry University, London South Bank University, and Aalborg University as a Visiting Research Fellow. He is a Full Professional Member of the British Computer Society (MBCS), belongs to the Computer Arts Society specialist interest group, and is a co-chair and proceedings editor for the EVA London (Electronic Visualisation and the Arts) conference.
2. Diagnostic / Jan Robbe
Born 14/06/1980 in Gent, Belgium, Jan Robbe is an interdisciplinary artist with a particular interest in generative design. In his college years, he was a student of Multimedia & Communication Technology (MCT) and Digital Arts & Entertainment (DAE) at PIH Kortrijk. Since 2003 he curates Entity, a netlabel dedicated to the promotion of artists who tread beyond the borders of previously established genres. As a graphic designer, he's the working force behind FRAMEofMIND, producing fractals and computer-generated imagery for print and digital media. In 2014, he released a video game (Hyperspace Invaders), which features generative gameplay and intense audio/visual correlation. As a producer, sound designer and composer he is self-taught and created various albums in experimental styles over the past 20 years, among which collaborations with Nico De Gols, David Deschuyteneer, Bogdan Dullsky, Ryan Friedrich, Filipe Cruz and many more.
3. Mark Pilkington
Mark Pilkington is a composer and performer of electroacoustic music. His practice encapsulates both sound and image as a means to extend spatial imaginings between real and virtual space. The coupling of sound and image are applied to electroacoustic music, installation and screen-based works. Forging immaterial and creative labour through a network of interwoven and augmented territories, his work increasingly queries the way operations carry great critical and creative potential. Seeking new modes of critical engagement that incorporate multiple narratives through non-digital and digital aesthetic informs the direction of his pedagogy. His theoretical research focuses on the relationship between artistic genres and their respective aesthetic theories with reference to electroacoustic music, sound synthesis, visual music, coding, philosophy, and film. His practice especially focuses on audio-visual composition using real and virtual entities as a means to explore time and space. His work has been performed, exhibited and screened at conferences and festivals throughout the UK and Europe. Collaborative interdisciplinary work is carried out with composers and visual artists. His work has been performed and screened at ICMC, ARS Electronica, MANTIS festival and the Open Circuit Festival.
4. Rajmil Fischman
Rajmil Fischman is a composer and Emeritus Professor at Keele University (UK), where he established the MA/MSc courses in Digital Music Technology and the Computer Music Laboratory. Attended musical studies at the National Conservatory of Lima, the Rubin Academy - Tel Aviv University and York University (UK), where he obtained a DPhil; studying composition with Abel Ehrlich, John Paynter and Richard Orton. He obtained a BSc in Electrical Engineering from the Israel Institute of Technology. His main activities focus on composition, sonic arts theory and music software development. Compositions have received numerous international performances and broadcasts, and include acoustic, electro-acoustic, interactive, audiovisual and multimedia, and the use of gestures to operate digital controllers in conjunction with multi-channel spatialisation. These are part of the long-term aim to realise Structured interactive immersive Multimedia experiences, in which users advance at their own pace, choosing their own trajectory through a multimedia work but having to act within its structure, rules and constraints.
5. Palle Dahlstedt
Palle Dahlstedt (b.1971), composer, improviser and researcher from Sweden. He studied piano, composition and electronic music 1989-1998 in Stockholm, Malmö and Gothenburg (MFA, MA), and has a PhD (2004) in evolutionary computation for musical creativity. His prize-winning music (Bourges 1996, Gaudeamus Prize 2001, etc.), from chamber and orchestral music to interactive computer installations and AI algorithms, has been performed on six continents. As an improviser, he performs on piano and/or electronics, solo or with his duo pantoMorf, with AMM, John Tilbury, Tim Perkis, Gino Robair, Stephen Nachmanovitch, and many others. He has also composed music for more than 40 dance and theatre productions and several short films. Dahlstedt was 2015-2018 Obel Professor in Art & Technology at Aalborg University, Denmark, and is currently Associate Professor in Computer-Aided Creativity and head of the Interaction Design Division at Chalmers University of Technology, and lecturer in electronic music composition at the Academy of Music and Drama, Gothenburg.
6. Jose Macabra
Jose Macabra (BA Sound Arts, UAL / MA Fine Art, Kent University) is an Artist, sound designer, curator and lecturer at University of the Arts London and SAE Institute. Jose's work nourishes from many influences, from the industrial and noise scenes, together with a legion of related genres such as ritual and the darker flavours of techno, blended with sound art, art brut and experimental music. Jose has worked with and for Ernesto Tomasini, Ron Athey, HR Giger, Sally Mann, Empress Stah, Lydia Lunch, FFIN DANCE Company, UCL, UAL, The Dream Corporation, Unite The Union, Katerina Valstur, and Christian Duka to name a few. Jose Macabra's work has been performed in art establishment venues including The Barbican, Tate Modern, Tate Liverpool, BFI and The Photographer's Gallery, Camberwell College of Arts and Kent University. Works involving Jose's sound design have toured major festivals in Madrid, Berlin, Athens, Brussels, Milan, Barcelona, Lisbon, Manchester, Liverpool and other cultural centres. Jose's last piece of spatial sound work was in collaboration with Christian Duka, UR: Human Presence, a multidisciplinary piece performed at Aures, London. The latest surprise from this sonic arts duo is the launch of their Sound Art Label, GUTZ.
7. La Peste / Laurent Mialon
Laurent Mialon was born in Bordeaux, France, in 1973. After a childhood spent between the vineyards and the mountains, he studied finance, but the discovery of psychedelism and experimental hardcore techno made him embrace another life. After starting to DJ in 1994, then compose 2 years later, in 1997 he created the record label Hangars Liquides, which quickly became a worldwide reference, with 23 releases including himself (La Peste), Venetian Snares, Noizecreator, Bombardier to name a few. Laurent joined the Conservatoire de Pantin in 2001 but did not stay long, after an argument with his tutor who could not stand the violence of his musical works. In that year he started working as a freelance sound designer, with notable works for Singapore Airlines, Samsung, JVC, and Eurosport. Laurent had been DJing at the biggest European festivals by the early 2000s, but completely swapped to purely patch-based live performances in 2006. He since has played live in most European countries. To quote an article before a performance he was to give in Macao, Milano, Italy:
'Ask any cultured raver about La Peste, and they will bow to the uncompromising power of Laurent Mialon's project. Started in 1998, it has always represented one of the most radical sides of speedcore, not as far as bpm speed was concerned, but rather in its overall psychedelic intensity, integrating elements of power electronics, complex polyrhythms, electroacoustic soundscapes and a constant research for the ultimate energy eruption. Never putting any boundaries to the sheer heaviness of his music, la peste has managed to find extreme beauty within its annihilating potential, expanding chaos to the boundaries of ecstatic experience. La Peste vivisects rave mechanics to reach their pulsing core, then reassembles it in new weird ways. He also managed to build up around himself a community of like-minded sound forgers by releasing their music on his label Hangars Liquides, one of the most influential and radical outputs of the rave age'.
Refusing to make any compromise with his music, he decided in parallel to work overseas, becoming a subsea robot pilot-engineer. He worked there for 10 years, almost every other month being sent to places as different than the Gulf of Guinea or Greenland. Deep-sea life forms have left a great imprint on his mind. In 2015 he moved his studio to Berlin and has been since working part-time for various companies, from the max for live implementation of a Bluetooth sensor for a Swiss start-up to the design of preset racks for Native Instruments' Reaktor.
Cybernetic Serendipity Music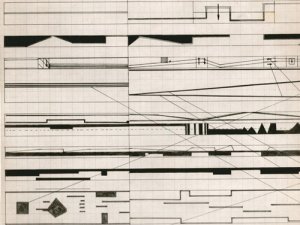 "Cybernetic Serendipity was an exhibition of cybernetic art curated by Jasia Reichardt, shown at the Institute of Contemporary Arts, London in 1968, and then touring the United States." - Wikipedia
As part of the exhibition, an album of experimental sound works was produced entitled Cybernetic Serendipity Music. We have included a selection of tracks from this album in the SoundPod at Event Two.
8. Lejaren Hiller And Leonard Isaacson
Lejaren Hiller And Leonard Isaacson
Illiac Suite
3:13
9. John Cage
John Cage
Cartridge Music
5:03
10. Iannis Xenakis
Iannis Xenakis
Strategie
4:49
11. J.K. Randall
J.K. Randall
Mudgett
6:51
12. Gerald Strang
Gerald Strang
Composition 3
2:06
13. Haruki Tsuchiya
Haruki Tsuchiya
Bit Music
2:37
14. Peter Zinovieff
Peter Zinovieff
January Tensions
9:27
15. Herbert Brün
Herbert Brün
Infraudibles
8:24