Ernest Edmonds at 80

art:notes+works
| Date | Details |
| --- | --- |
| March/April 2023 | Phoenix Cinema and Arts Centre, Leicester (Prints) |
| 16th November 2022 - End of February 2023 | BCS Moorgate, London (Prints) |
An exhibition of work by pioneering computer artist Ernest Edmonds opened on the 16th of November at the British Computer Society, London and will remain on show until the end of February 2023. It will then move to the Phoenix Cinema and Art Centre in Leicester for an additional two months. After April 2023 the exhibition will bne available for showing elsewhere. Contact the Computer Arts Society for details. The exhibition consists of a set of prints each showing an artwork, together with related working notes, covering sixty years of making art. The prints are drawn from the book Ernest Edmonds, art: notes and works.
Documentation
Limited Edition Print
To mark the Ernest Edmonds at 80. art:notes+works exhibition at the BCS in London we are offering a limited edition signed archival print of the exhibition poster for £40 including UK postage and packaging. All funds raised will help support the Computer Arts Archive CIC.
You can order a print (maximum two per order) by following the link below. The price is £40 per print including UK postage and there are 20 numbered copies available. Email info@computer-arts-archive.com to order a copy while stocks last. You will then be sent a payment link.
Status: 16 in Stock and Ready to Post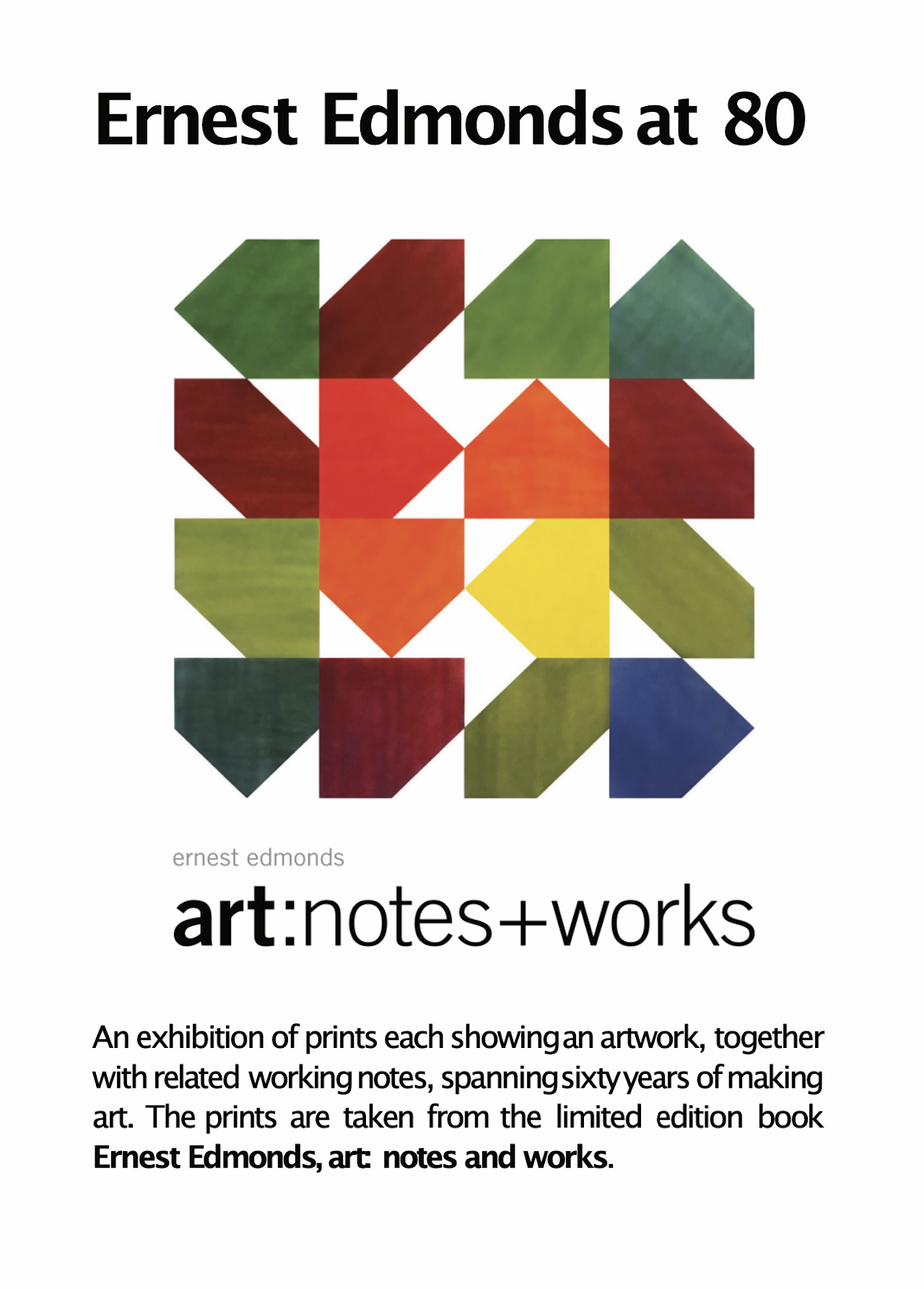 13" x 19" (329mm width x 483mm height) archival print signed by Ernest Edmonds. Limited to 20 copies (plus 3 proofs).
Exhibition Booklet
An exhibition booklet is being produced. This will contain images from the exhibition and the London and Leicester showings. The booklet will be made available for free as a downloadable PDF. A printed copy of the booklet will also be sent to buyers of the exhibition paster. A small number of printed copies will also be nmade available to buy via this website. A notification will be sent to our email list and Facebook page when it is available.
Exhibition Opening at BCS Moorgate, London