Graham Bate
Graham Bate studied at Birmingham College of Art. He has lived and worked in New York, London, France, Austria, Scotland and the Peak District of England. He has held senior academic posts at Central Saint Martins School of Art London, Leicester Polytechnic in the 1980s (now De Montfort University) and Sheffield Hallam University.
Homage to Ellsworth Kelly is a print derived from a time based work I made in 1999. During 1951 to 1953 the American artist Ellsworth Kelly produced a painting in which randomly selected colours were applied to each of the 1444 squares of the painting. As a tribute I created a computer generated continuous sequence (YouTube)in which I reproduced the painting as a digital image run on a PC and used modular mathematics whereby adjacent squares of colour randomly affected each other. Each transmission produced a different result.
Eight Hours shows a progression of still images drawn from an eight hour silent movie entitled Moving Painting Four (YouTube). The print captures the continual flow of the movie in a static sequence. Moving Painting Four creates a quiet space for tranquil, contemplative encounters with the self. It offers a continuous, slow, imperceptibly changing visual panorama and is meant to be experienced like a painting rather than watched like a film.
Artworks
Homage to Ellsworth Kelly (1999)
Eight Hours (2021)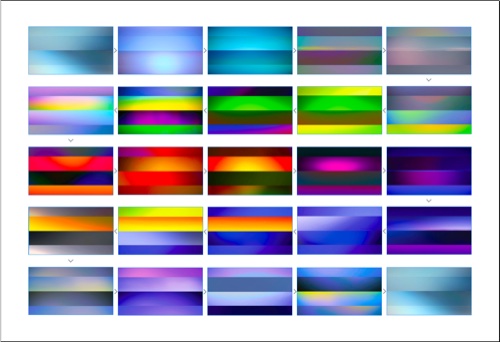 More Information